Styling
The Trendiest Summer Beach Hats for Women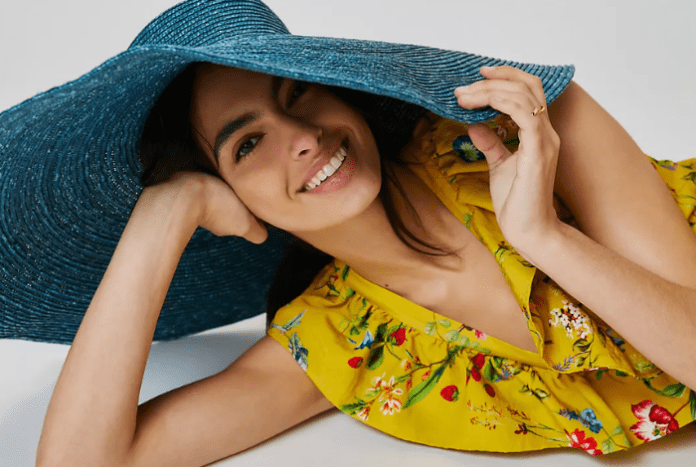 We hope you love the products we recommend! Just so you know, Trendy Mami may collect a share of sales or other compensation from the links on this page.
A lot of beach hats for women are bland and boring. But the truth is – your beach hat should be a fashion accessory that accentuates your summer outfit! Not only should your sunhat be stylish, but it should also offer protection from the sun's harmful rays. Thankfully, there are many trendy sun hats for women that do both!
Stylish Summer Beach Hats for Women
We've picked out a few of our favorite sun hats from the Getaway & Resort Wear collection at Anthropologie. From bucket hats to straw ranchers, you're guaranteed to find your next favorite accessory on this list!
Pilcro Straw Rancher
There's something timeless about a classic straw hat. But we especially love this straw rancher because of the colored band. The neutral shades of blue and khaki are subtle enough to match any swimsuit or sundress. And the 3-inch brim is wide enough to block the sun but small enough to not be too overwhelming.
Striped Bucket Hat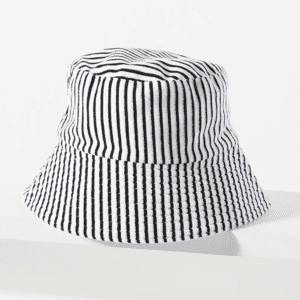 Bucket hats were big in the 90s, but we've seen a huge resurgence in the trend this year. And we love it! Bucket hats are perfect for any situation, whether it's a day of shopping or a trip to the beach. Check out this striped bucket hat, which is made from soft terry polyester fabric. We also love that it comes in three different colors (striped, black, green, and coral).
Bow Visor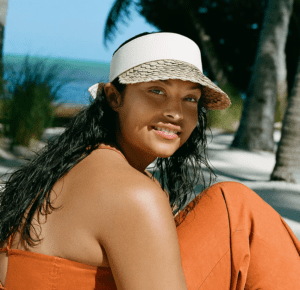 Visors are one of our favorite beach hats for women. They're perfect if you want to protect your face from the sun but still have the ocean breeze in your hair. This straw bow visor is a feminine take on the sporty visors we all know and love. And it comes in a soft neutral color that will look amazing with your summer tan!
Rainbow Bucket Hat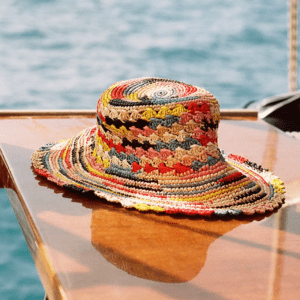 A lot of beach hats for women come in neutral shades – but not this rainbow bucket hat! This eye-catching bucket hat is made of almost every color of the rainbow. It's woven with natural toquilla palm straw that is soft, comfy, and long-lasting. And although you might think it's hard to find something that matches, we believe you can wear it with anything!
Baseball Cap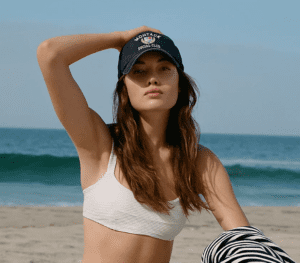 Every girl needs a stylish baseball cap in their closet for those sunny days. They're also easier to pack than a straw sunhat, so it's a great choice if you're going on vacation. This vintage-style cap is made from cotton, so it's lightweight and breathable, plus it has a classic embroidered logo for a little extra oomph!
Floppy Sunhat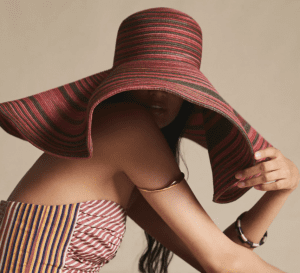 If you're going for a glam look, then this floppy sunhat is guaranteed to be a showstopper. It features a wide 10-inch brim that enhances any summer outfit. Not to mention, it offers quite a bit of shade, so you won't have to worry about any nasty sunburns. It comes in a neutral tan/white shade or a vibrant stripey red.
More Summer Outfit Ideas
Summer is a great excuse to stock your closet with the latest beachwear trends, so check out Anthropologie's Getaway Shop before summer is over!
And while you'll want to pick out hot summer vacation outfits, don't forget about the accessories! In addition to beach hats for women, you'll always want to add jewelry, sunglasses, sandals, and more to your list.