Parenting
Our Editors' Go-To Backyard Kids Toys for Summer
To help inspire hours of outdoor play, we put our heads together to build a comprehensive backyard toys guide that hits every price point and interest. From items that will spark imaginative, open-ended play to a bevy of toys that promise to get them moving, this article includes summer standards like sandboxes and water tables alongside some newer favorites like mud kitchens and an elevated obstacle course. This list brims with fun, creative ways to make the most of your outdoor space while the sun shines and before the kids head back to school this fall. 
Read on for 30 of our favorite backyard toys to keep your kids entertained this summer.
Water Toys
Amazon
Rain Showers Splash Pond Water Table
When it comes to entertaining littles outside, you will never regret buying this staple for summer play.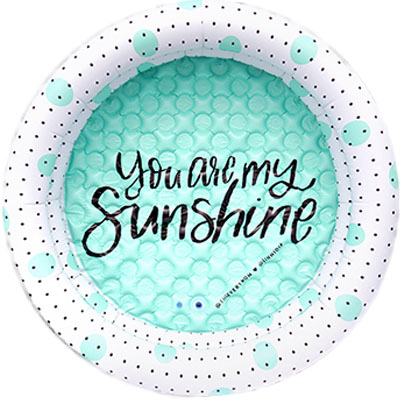 The Everymom x Minnidip
Minni-Minni Luxe Inflatable Pool
The mini inflatable backyard pool includes a padded bottom to keep little bums comfortable and safe.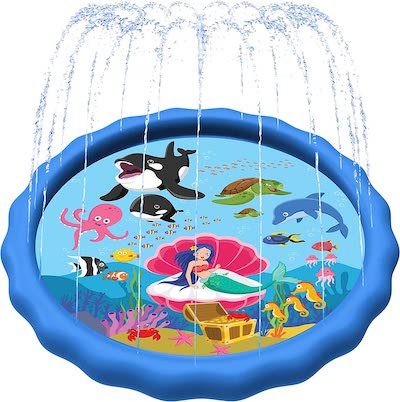 Amazon
Splash Pad & Sprinkler
A fresh take on the outdoor sprinkler set-up, this splash pad promises hours of summer fun.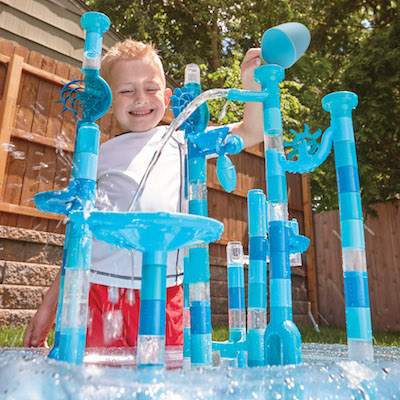 Walmart
Aqua Maze Marble Run
Just add water to this marble run for STEM learning this summer. The set includes 96 building pieces, 20 floating marbles, an inflatable plastic mat for easy clean-up, a large scoop, and a dropper.
recommended for ages 4+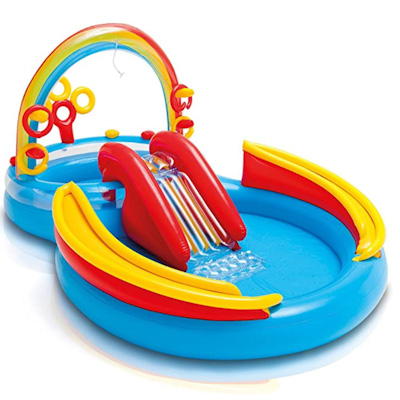 Amazon
Inflatable Water Play Center
Get kids playing outside with this inflatable play center, which is the perfect summer activity to keep them entertained. It features a water slide, a rainbow sprayer, and a few other fun games!
Ride-On Toys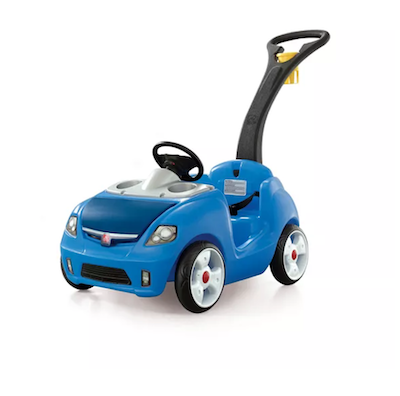 Amazon
Ride-On Push Car
This push-powered ride-on car features a working horn and storage under the hood for trinkets, toys, or other summer outdoor finds.
also available in pink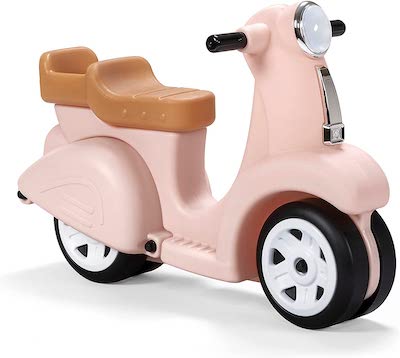 Amazon
Ride Along Vintage-Style Scooter
Toddlers will learn stability, have fun, and get around independently with this sleek ride-on toy.
more colors available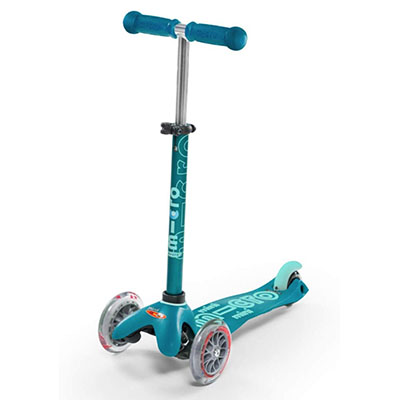 Amazon
Micro Kickboard Scooter
This scooter has incredible customer reviews and is an editor favorite for its adjustable handles to grow with your child, three-wheel stability, and easy steering and braking.
more colors available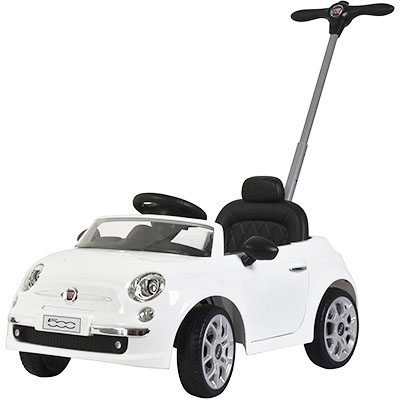 Amazon
Fiat Push Car
Your little one will be riding in style with this Fiat push car. Doors open and close, steering wheel plays music, and LED headlights make for perfect evening strolls with your little speed racer.
also available in pink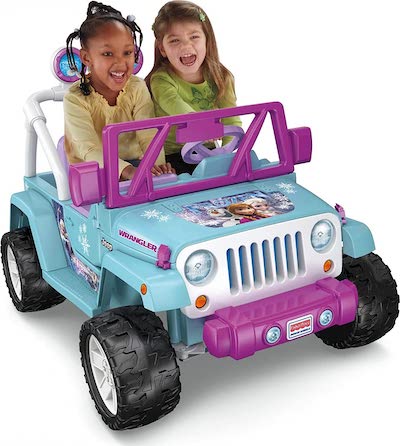 Amazon
Frozen Ride-On Kids Car
Remember these from when we were little? This big-ticket toy is sure to bring a smile to any little Frozen fan's face as they ride around the backyard in this battery-powered vehicle.
many themes and characters available
Classic Toys & Games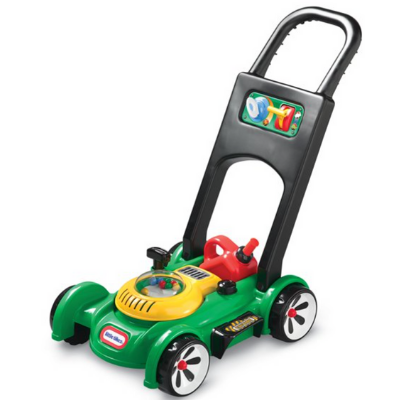 Walmart
Gas 'n Go Mower
Not many things are cuter than your kid pushing their own lawn mower around the yard behind their parent cutting the lawn. This mower comes with turnable knobs and a gas can to "refill."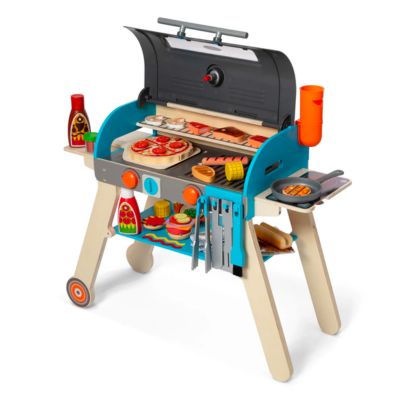 Melissa & Doug
Deluxe Grill & Pizza Oven Play Set
A great toy to inspire imaginative play, kids can fire up this pretend BBQ grill, smoker, and pizza oven that includes every accessory they'll need to create a yummy summer meal.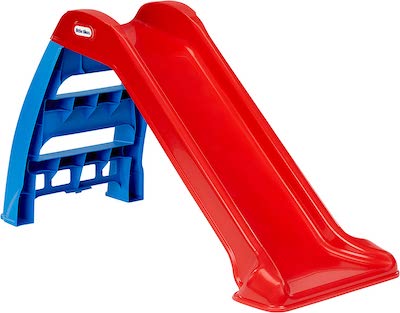 Amazon
Toddler Slide
This Little Tikes slide is a classic backyard toy that's spanned many generations of kids. It's easy to assemble and clean and would make a great addition to a basement play room during the winter.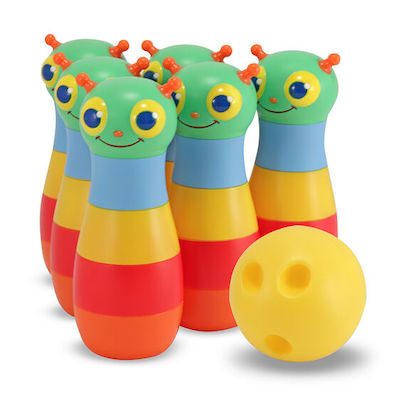 Target
Happy Giddy Kids Bowling Set
Set the bowling pins up on the sidewalk or driveway for outdoor fun this summer. Plus, you can play with them in a hallway inside for year-round fun.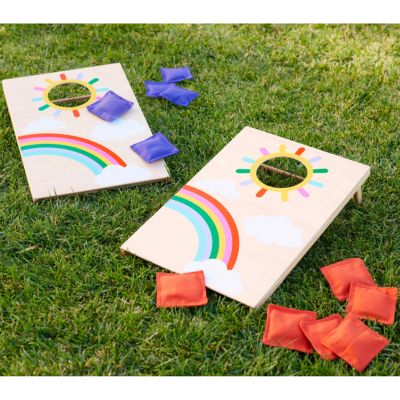 Pottery Barn Kids
Kids Cornhole Game Set
This portable corn hole game is perfect to help your little ones practice their hand-eye coordination skills and have fun while doing it.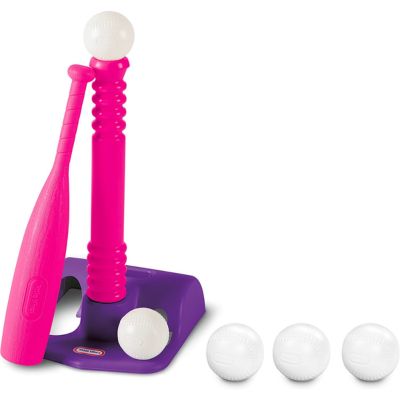 Amazon
T-Ball Set
Your little on can learn T-ball basics like hand-eye coordination and motor skills safely with this oversized plastic bat, five balls, and tee.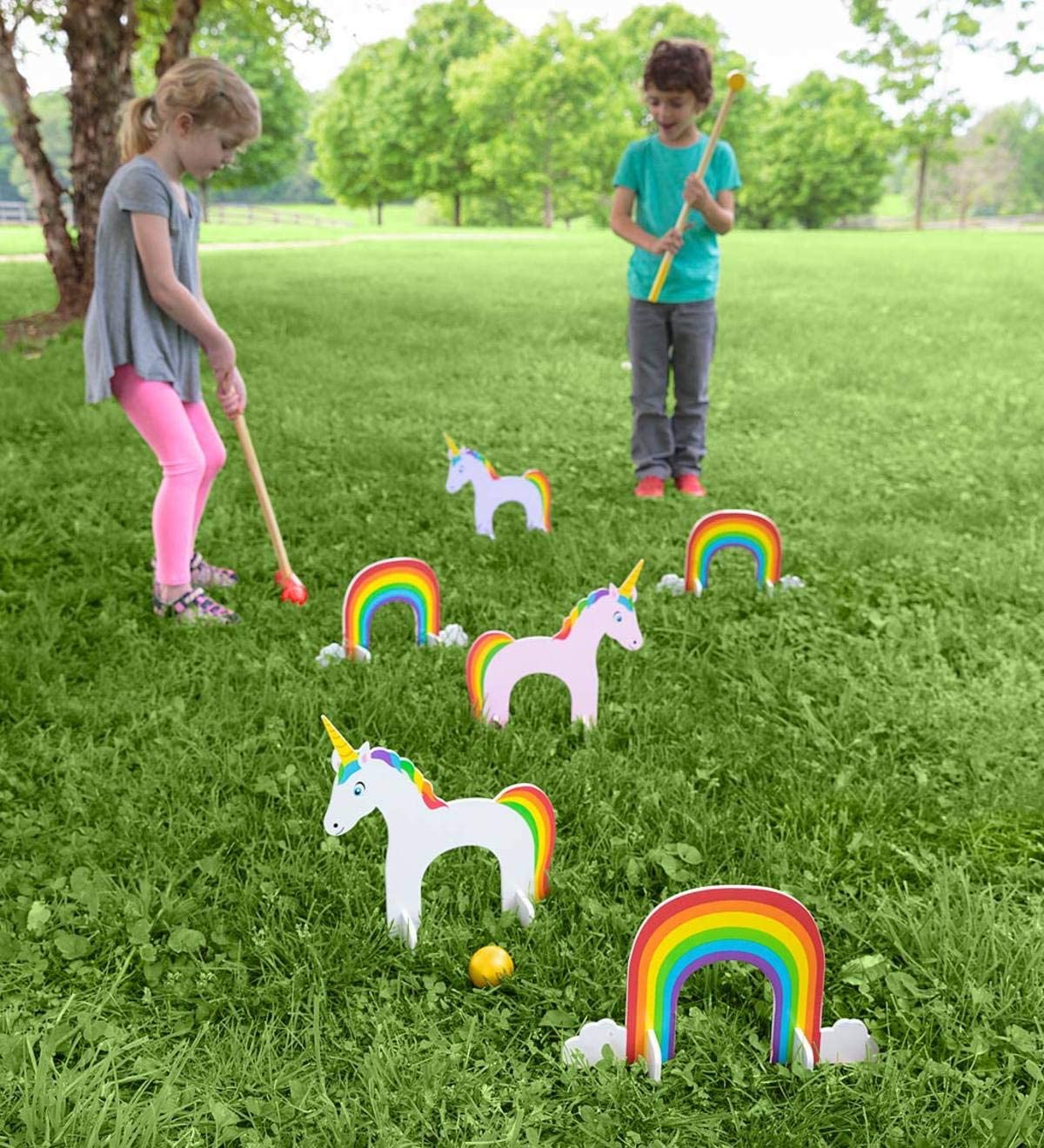 Amazon
Unicorn Kids Croquet Set
Get the kiddos interested in a game 200 years old—croquet! Can be used indoors, too.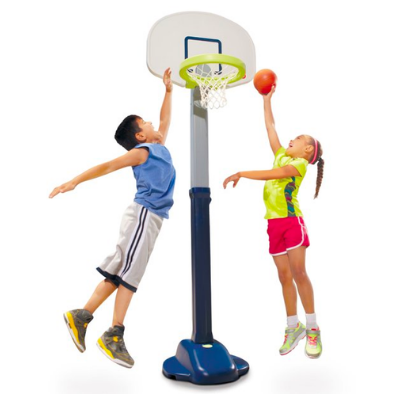 Walmart
Adjust 'n Jam Basketball Set
This Little Tikes basketball hoop has stood the test of time with its adjustable height rim and durability (plus it's small enough to add to an indoor play space).
Playhouses, Swings & More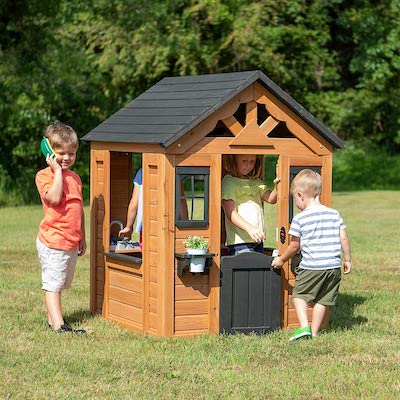 Amazon
Wooden Playhouse
A reader and editor favorite, this pretty playhouse is primed for imaginative play.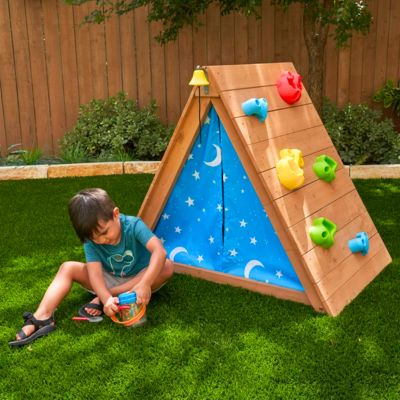 Walmart
A-Frame Wooden Hideaway & Climber
This two-in-one outdoor play structure is both a hideaway tent and a little rock climbing wall for active kids.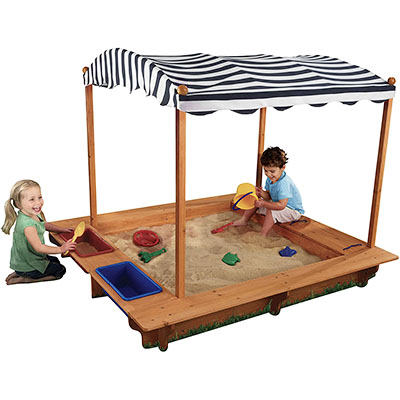 Amazon
Outdoor Summer Sandbox
You won't mind having this adorable sandbox in your backyard with a scalloped canopy for shaded play all summer long.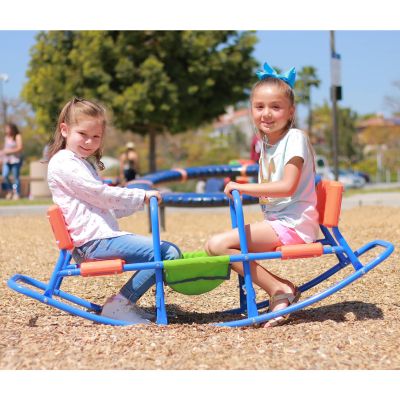 Amazon
Kids Teeter Totter
This outdoor rocker brings playground fun to your own backyard.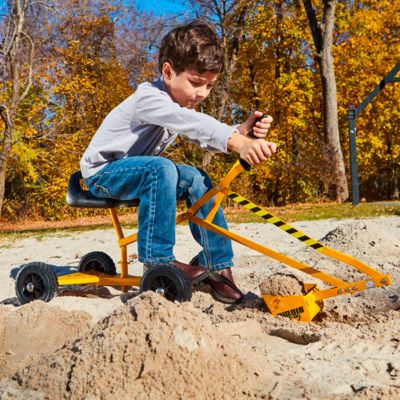 Amazon
Rolling Sandbox Digger Excavator Crane
An extra-special touch to a big sandbox, this sit-on digger tool will make your little one feel like a real construction worker.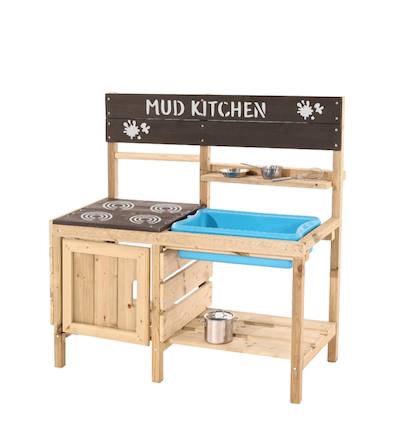 Maisonette
Mud Kitchen
Give kids a spot you won't mind getting messy with this mud kitchen with wet and dry activity areas; includes removable splash sink, chalkboard, and cupboard "oven" as well as a starter set of stainless steel pots and pans with a mixing whisk.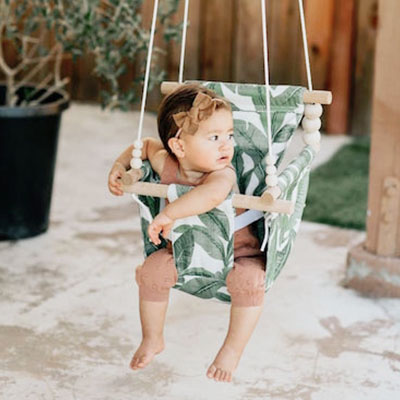 Etsy | Sweet Swinging
Fabric Baby & Toddler Swing
This swing is so beautiful, you won't mind mounting it inside after summer for year-round fun.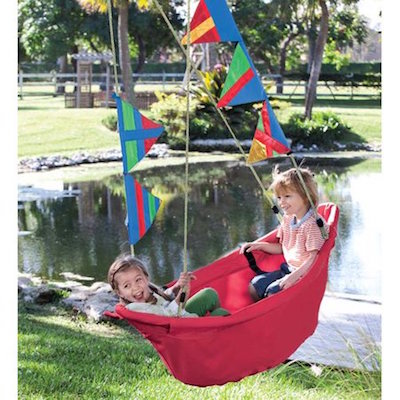 Amazon
Regatta Ship Swing
What kid wouldn't love this Peter Pan-inspired "flying" ship swing? Fun and imaginative play is calling with this one!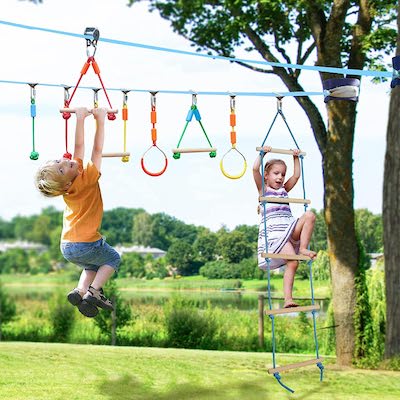 Amazon
Kids Outdoor Obstacle Course
Mount this outdoor obstacle course for kids between two trees for tons of summer fun—and plenty of burned energy!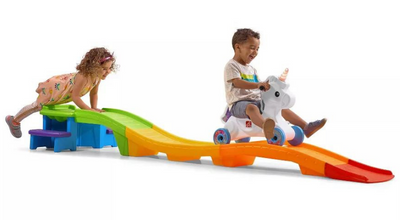 Target
Unicorn Up & Down Roller Coaster
A great toy to use indoors or out, your kids will have so much fun riding this mini unicorn roller coaster all summer long.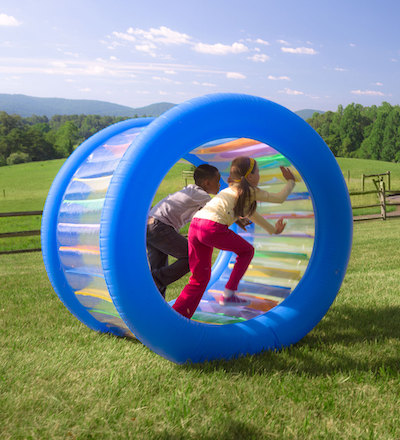 Amazon
Giant Inflatable Rolling Wheel
This rolling wheel offers endless play possibilities for active outdoor fun!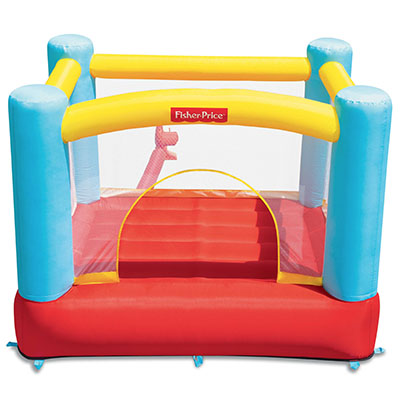 Walmart
Bounce House
Bounce houses have saved many-a-parent's sanity during the past few years by promoting tons of active energy-burning playtime.