Just so you know, whilst we may receive a commission or other compensation from the links on this page, we never allow this to influence product selections.
A practical pram or pushchair is incredibly important when you have a child, and the Graco Myavo ticks all the boxes in terms of practicality and ease of use. With an automatic, one-handed fold, the Graco Myavo is compact and lightweight, which makes it easy to take on the go.
It has the option to be a three or five-point harness system to keep your little one secure and a detachable bumper bar to make it easier to put them in and take them out.
I tested the Graco Myavo Travel Stroller with my 18-month-old daughter, using it for days out and day-to-day use, to see how practical, compact and easy to use the stroller is.
1. Graco Myavo Compact Stroller
Pros
One-handed fold
Lightweight design
Compact
Large storage basket
Cons
One-handed lock feature can be tricky to use at first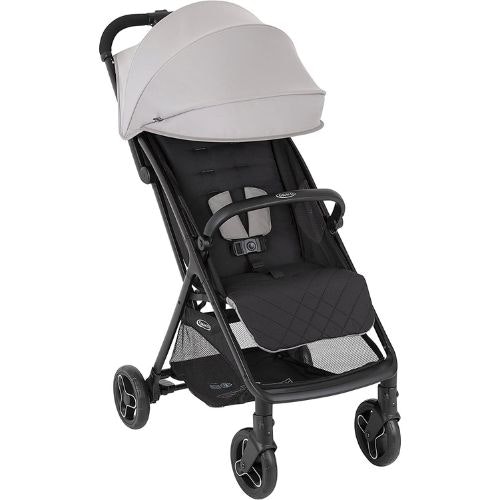 Key features
Automatic stand-alone fold
When you have a baby in your arms and you're trying to fold up your pram, it can feel like an impossible task juggling both, but with the automatic stand-alone fold on the Graco Myavo, it made everything so much easier. With a press and slide of a button, you can fold the pram down and pop it up easily and even with one hand.
Compact design
Prams can often take up all the space in the car, but the compact design and integrated folding lock meant that not only did the pram stay folded and compact, but it also meant there was still plenty of room for shopping, and it even tucked into the footwell in the back of the car.
UPF50+ knit canopy
The knit canopy adds a luxury feel to the stroller, while also providing your little one protection from UV rays, which means you won't necessarily have to invest in a pram sunshade to protect your baby from sun exposure.
Testing the Graco Myavo
Performance
I couldn't fault the Graco Myavo's performance at all. It was incredibly easy to fix the wheels onto the stroller and it has been a dream to use since.
The handle is a great height and it's easy to push around. We've taken it to the zoo, the beach and on fields and found that there wasn't a terrain that it struggled on.
While my daughter looked comfortable sitting in the stroller, it did on occasion look as though she was sliding down the seat, and if it wasn't for the harness system, it looks like she would easily slide out. Although it didn't seem to bother her and she wasn't phased, I did find myself adjusting her so that she looked like she was sitting properly.
The harness system was also easy to use and could quickly change from a five-point harness system to a three-point, which I felt was really useful, as by using the three-point harness, my daughter could sit herself up and look out of the stroller easier.
Another feature I found extremely useful on the stroller was the UPF50+ knit canopy. It felt incredibly soft and really adds to the look of the stroller. The hood couldn't be fully down when my daughter was sat up in the stroller as it blocked her eye line, but when she was asleep it provided a lot of protection and shade. Even when the hood was halfway, it still provided a lot of protection.
Usability
I don't think I have used a stroller that's not only compact but also comfortable for my daughter to sit in and lightweight for me to carry.
The front wheels have a 360-degree front swivel and it's a dream to push. We've used it over different terrain, such as grass, gravel and normal pathways and we've not struggled to push it at all. The stroller really does live up to being lightweight, as unless the break is put on to prevent it from moving, the wind can blow the stroller to move.
Using the one-handed fold took some getting used to, as it's a feature that I've never used before. However, once I got the hang of pushing the fold button and sliding the safety lock, I found collapsing the stroller and popping it up one-handed incredibly easy.
It was extremely useful having this feature as I often find myself needing to fold down the pram while I'm holding my daughter, and I'm then able to lift the pram easily by leaving the bumper bar attached, to use as a carry handle.
Reclining the stroller seat was also easy to do and I was surprised at how flat it lay. This was extremely handy for when my daughter fell asleep while out, as it allowed her to stay asleep in a more comfortable position.
Build
I loved the compact build of the stroller as it meant I could leave it in the boot of the car when I did the weekly food shop and still fit all the shopping in, whereas I really struggled to do that with my other pram as it was a lot larger and I'd have to constantly move the pram and bags around just to get everything to fit.
The three or five-point harness was really easy to use too, and I liked the fact I could alternate between the two with ease. I did find that the back of the seat didn't allow my daughter to sit up completely straight, but I have found that with most pushchairs, however, the three-point harness system meant that she could sit herself up properly.
One problem I did find was when adjusting the top straps, which are part of the five-point harness system, I struggled to take them out of the back of the pram to position them higher. I managed to do this eventually and would make a point of ensuring the straps are all adjusted to your little one in advance of needing to go out.
However, I didn't find this to cause too much of an issue as it's not a constant problem and it does reassure that the harness is secured into the pram well.
One thing that concerned me about the stroller being compact was I thought there would be limited storage space underneath, however, I was amazed at the large storage basket. I could fit two small bags, coats and water bottles in the basket and there was still plenty of room.
I even kept the rain cover in the bottom which normally I wouldn't be able to do with my other pram, and even when the Graco Myavo was folded the rain cover didn't alter the compact design.
Final verdict
Overall, I think that the Graco Myavo is a great travel stroller. It's a brilliant compact design, incredibly easy to use and lightweight enough to carry.
It would be helpful if the stroller came with straps that you could attach to carry, however, this would just be a personal preference and an added bonus to what already is a great stroller.
My daughter was actually happy to stay sat in the stroller and I loved that she felt comfortable enough to stay sat in it, as she would normally try to climb out.
The Graco Myavo is definitely a great travel stroller, and the one-handed fold alone was enough to impress me. I definitely think it will be a struggle to find a travel stroller that's as easy to use and lightweight as this.
FAQs
Do I need a travel stroller?
Travel strollers are great for saving space in the car and are often compact designs making them easy to take out and about. Most are also approved to take on flights so that you don't have to check in your stroller.
While you might not necessarily need one unless you are going on holiday, a travel stroller could make a great alternative to your regular pushchair once your little one starts to walk, as it can save you taking a bulky pram out with you and they can fold up a little easier than smaller strollers.
Can a travel stroller parent face?
As a travel stroller is designed to be more compact, they are world-facing strollers and therefore do not have the option to rotate the chair so that your little one is facing you in the pushchair. There are lots of parent-facing strollers and pushchairs available if this is important for you though.
Samantha Ball is a Product & Lifestyle Writer for Mother&Baby and freelanced for the website for two years before joining the team full time. She's a mum of two and loves browsing for the best products and cute outfits.