Parenting
What Are the Best Sunscreens for Kids? Here's What You Need to Know
While we're all out enjoying the long, sunny days with our families, sun protection always seems to be at the forefront of our minds. Long gone are the days of bronzing and baking in the sun without protection (does anyone else cringe when they think of all the time they've spent doing just that?). The more we know about the harmful impact of the sun's rays on our skin, the more cautious we've become in regards to protective clothing and sunscreens—especially when it comes to finding the best sunscreen for kids and babies.
Their sweet, sensitive skin needs the best, gentlest protection, which is not as easy to find as it may seem. When you throw together all of the differing types of sunscreen ingredients with all of the various brands that offer sunscreen, it's pretty much a recipe for mass confusion.
Before you head to Target just to stare blankly at the options in the sunscreen aisle, check out our guide. We talked to dermatologists from across the country to get the details on what you need to know when it comes to sun safety when it comes to your kids (and you!). We're breaking down all the aspects of sun protection so you can pick up exactly what you need without all of the confusion. We've even picked out our favorite brands for you to make shopping for sunscreen quick and painless.
What age do I start applying sunscreen to my baby?
Sunscreen should be applied to all children over 6 months of age, notes Board Certified Dermatologist Dr. Sejal Shah. And though it was previously said not to use sunscreen on babies younger than 6 months, those recommendations have changed in the last few years.
In this age group, using clothing and shade as the primary defense against the sun is most recommended. But, both the American Academy of Dermatology and the American Academy of Pediatrics have stated that it is now considered safe to use minimal amounts of sunscreen on infants younger than 6 months of age. Generally, small amounts of sunscreen should be used on any exposed areas (like your baby's face, ears, neck, and hands) when it's not entirely protected by shade and clothing.
Because sensitive baby skin is more at risk of absorbing applied products and having skin reactions, avoiding direct sunlight and covering your baby's skin with lightweight clothing is definitely best.
Do I only use sunscreen on sunny days?
The general consensus is that you and your kiddos should wear sunscreen every single day. Yes, it's true, every single day. As Board Certified Dermatologist Dr. Dustin Mullens notes, regardless of the weather forecast, the sun rises every day and emits harmful skin cancer-inducing and skin-aging UV rays that require daily sun protection.
Working it into your morning routine, just like you do with brushing your kid's teeth, makes sunscreen application a regular thing and something that they'll hopefully continue into adulthood.
What type of sunscreen is best?
Sunscreens are typically classified by how they filter the sun, with they either offer a physical barrier or absorb ultraviolet rays.
Physical/Mineral Sunscreen
Filters that reflect the sun, like Zinc Oxide and Titanium Dioxide, are often referred to as physical or mineral blocks. These basically create a barrier between the sun and your baby's skin. They're also less likely to cause allergic reactions, and so more often recommended for young children.
Mineral blocks work right away when applied, which might make life much easier for you as a parent. In addition, Zinc Oxide covers the greatest range of ultraviolet B rays out of any of the available sunscreen ingredients.
Chemical Sunscreen
Sunscreen filters that absorb the sun's ultraviolet rays are typically called chemical sunscreens. Several of these filters are more likely to cause an allergic reaction. But, when used appropriately on adults or older children, these sunscreens are considered to be very effective.
Chemical blocks take about 20-30 minutes to absorb and start working, says Dr. Bruce Robinson, New York City Dermatologist. "Children are simply not going to wait 20 minutes under an umbrella before they can go back out in the sunshine," he said, and knowing our kids, he's definitely right.
Spray Sunscreen
Spray sunscreens are also not recommended for use on children for two reasons: there is a higher risk of inhalation with a spray sunscreen and there is a higher risk of inadequate coverage with a spray sunscreen.
Of course, there's a lot of personal preference involved—the type of sunscreen you choose will have a lot to do with your family's lifestyle.
What sunscreen ingredients should I avoid?
Some common sunscreen ingredients, like avobenzone, oxybenzone, octinoxate, and homosalate, may have hormonal properties or disrupt hormones in your body, and so many people choose to avoid them, said Dr. Keira L. Barr, MD. They can also be contributors to allergic contact dermatitis, especially on young, sensitive skin.
What does it mean if a sunscreen is reef-safe?
Oxybenzone and octinoxate are two common sunscreen ingredients that have been found to cause genetic damage to coral reefs and other marine life. Recently, Hawaii became the first state to ban the sale of sunscreens containing these ingredients, with Florida and California hoping to follow in their footsteps next.
Many companies that make sunscreen are now labeling their products with "reef-safe" if the ingredients don't include those that are considered harmful to the environment.
How much sunscreen should I be applying?
The average sized adult needs one ounce for total body coverage, which is the equivalent of the size of the shot glass, says Dr. Barr. Depending on the size of your child, they may need about one tablespoon or so. But, keep in mind that, while you can't really put on too much sunscreen, you can definitely put on too little. So, err on the side of caution, mama, and lather that baby up.
How often should I reapply sunscreen?
It's super important to reapply sunscreen often. Sunscreens sometimes degrade in the sun, and they almost always wash off or rub off on towels and clothing. Reapply sunscreen every two hours under ideal conditions—average to low humidity, not sweating—and always reapply immediately after getting out of a pool, lake or ocean, said Dr. Robinson. Reapply much more often (like every hour) when sweating or swimming.
What else do I need to know about keeping my kid safe in the sun?
The most important sun safe practice for everyone, kids included, is direct sunlight avoidance, noted Dermatologist Dr. Fayne L. Frey, MD, FAAD.
"Moms should try to minimize children's direct exposure to midday sun by enjoying outdoor activities in the early morning and late afternoon, and by avoiding the midday sun between 10am and 3pm" she said. Dressing your kids in long-sleeved shirts & brimmed hats is the next best way to minimize sun exposure. Sunscreen applied liberally and often is also necessary, but is really only your final line of defense.
The first line of defense when it comes to sun protection for kids is building a strong foundation of health, said Dr. Barr. This includes eating nutrient-dense whole foods incorporating all the colors of the rainbow, consistently getting quality sleep, getting lots of daily movement, and having a positive mindset.
By nurturing a strong foundation of health, she says, your child can be more resilient in the face of all types of stressors, including environmental stressors like UV radiation.
Shop our favorite sunscreens for babies and kids
Thinkbaby
Safe Sunscreen SPF 50+
This sunscreen goes on easily, isn't greasy, and was the first sunscreen to pass Whole Foods Market's Premium Care requirements.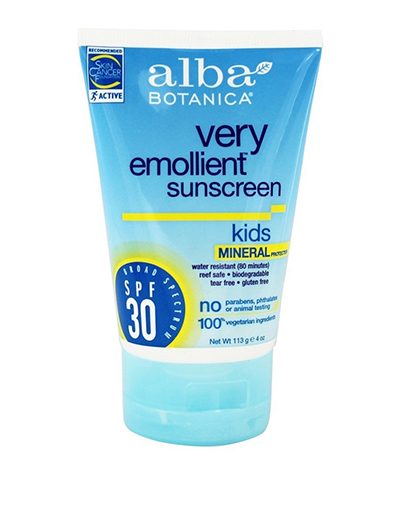 Alba Botanica
Kids Mineral Sunscreen
Alba Botanica sunscreen is reef-safe, water-resistant, and is soothing for sensitive skin because it contains extracts of aloe vera, chamomile, and calendula.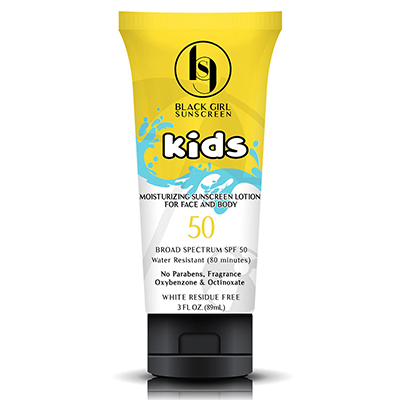 Black Girl Sunscreen
Kids Broad Spectrum SPF 50
This reef-safe face and body sunscreen is made for kids of color. It soothes, moisturizes, protects, hydrates, and heals skin and doesn't leave a sticky white residue.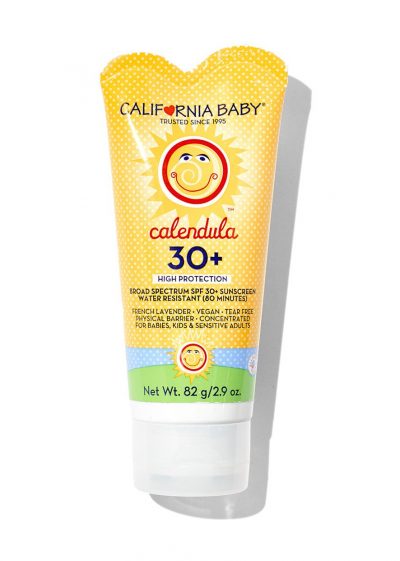 California Baby
Calendula Baby Broad Spectrum Sunscreen
This California Baby formula is infused with an essential oil blend of French lavender, clary sage, and calendula.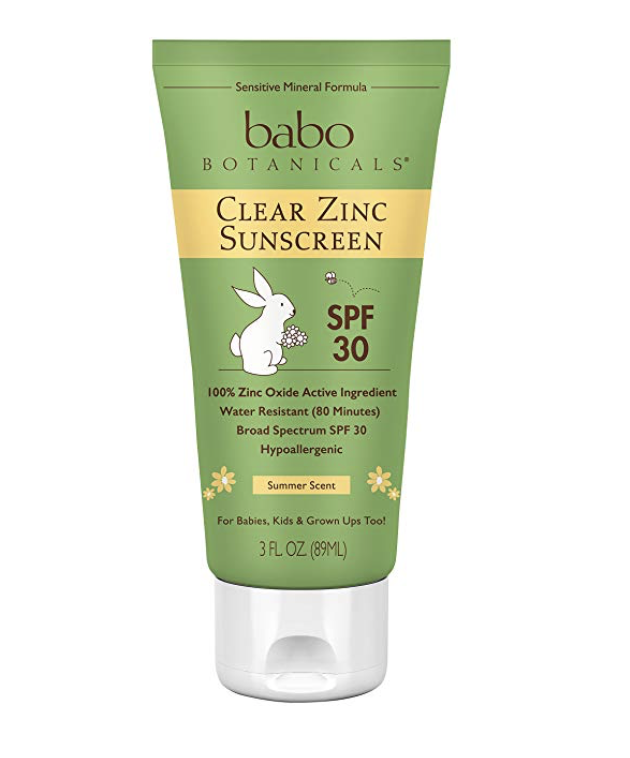 Babo Botanicals
Clear Zinc Sunscreen SPF 30
The zinc formula is ocean-safe and effectively protects skin from sunburn. This sunscreen is also sulfate-, paraben-, phthalate-, fragrance-, and dye-free.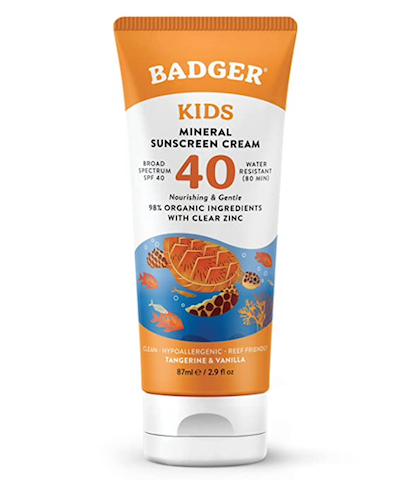 Badger
Kids Sunscreen Cream
This sunscreen is water- and sweat-resistant for up to 40 minutes and contains moisturizing ingredients like sunflower oil, beeswax, seabuckthorn, and Vitamin E.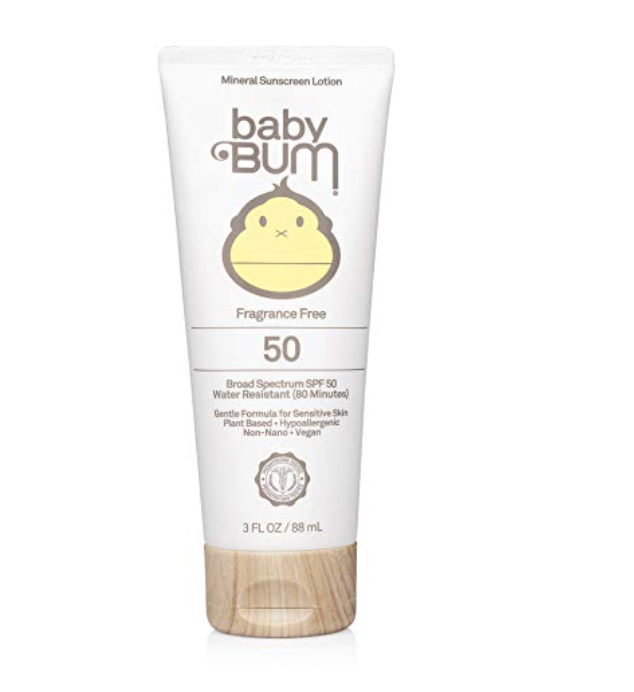 Baby Bum
Mineral Sunscreen SPF 50
Not all Sun Bum products are mineral blocks, but this one is. The best part? You can grab it on your next Target run or add to your Amazon cart.
Shop it now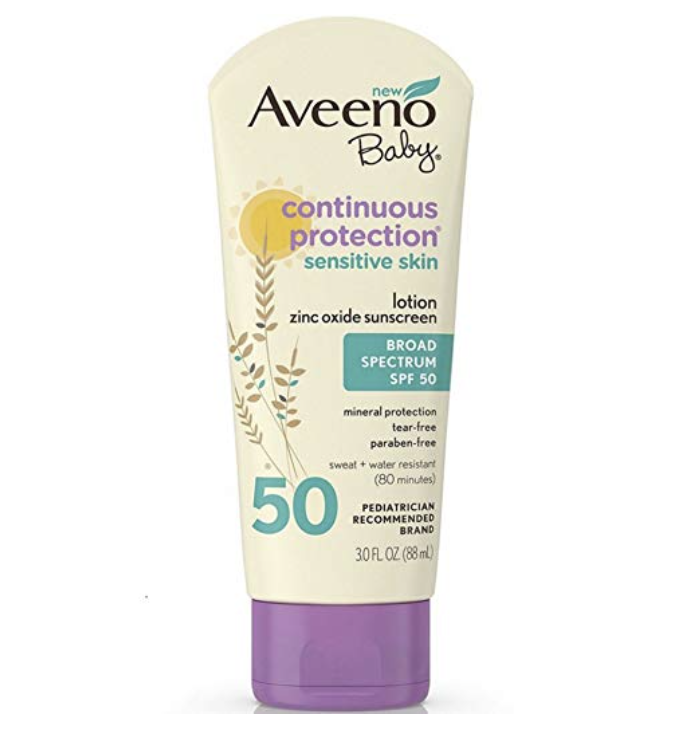 Aveeno Baby
Continuous Protection Zinc Oxide Suncreen
Aveeno is a trusted brand and conveniently located in most large grocery stores and drugstores. And, its a mineral block at an affordable price, making it a great option to send to daycare and school with the kids and keep in your handbag for impromptu trips to the park.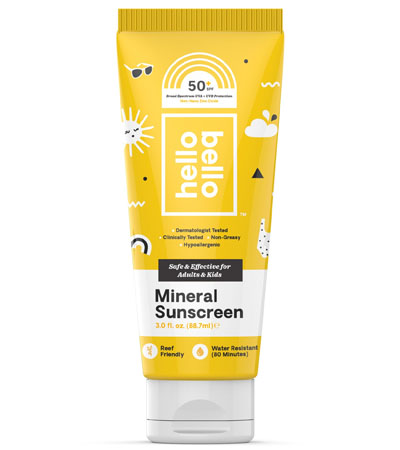 Hello Bello
Mineral SPF 55+ Sunscreen Lotion with Prebiotics
Hello Bello's baby sunscreen formula is reef-friendly and water-resistant for 80 minutes.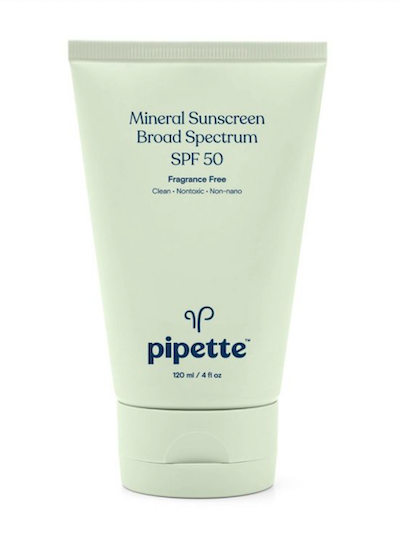 Pipette
Mineral Broad Spectrum SPF 50 Sunscreen
This sunscreen is easy to apply without leaving a white cast on the skin and it's reef-friendly. Plus, even though it's labeled baby sunscreen, it can be used on the whole family.
It is not water-resistant, so it's best for every day summer use when swimming isn't part of your day's plans.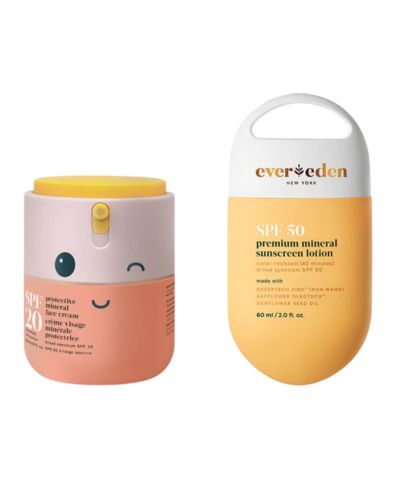 Evereden
Kids SPF Duo
Lather your kids in this mineral sunscreen that protects their skin from UVA/UVB rays, blue light damage, pollution, and excessive dryness.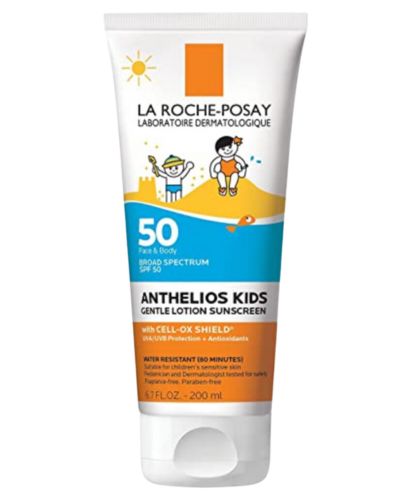 La Roche-Posay
Anthelios Dermo-Kids Gentle Sunsceen
Created with a gentle formula, this dermatologist and pediatrician tested sunscreen melts into the skin without leaving a white cast.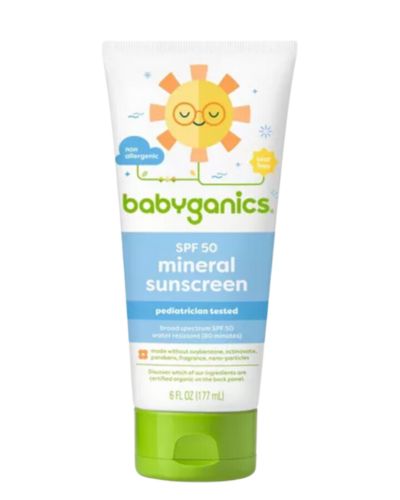 Babyganics
Mineral-Based Baby Sunscreen
Protect your baby's skin with this water and sweat resistant sunscreen that is formulated without parabens, phthalates, PABA, fragrance and nanoparticles.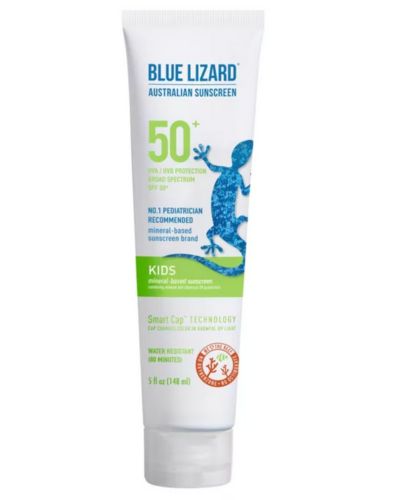 Blue Lizard
Mineral-Based Sunscreen Lotion SPF50+
There's a reason this reef-safe sunscreen is award-winning. The bottle even has smart technology, that turns blue when exposed to UV rays.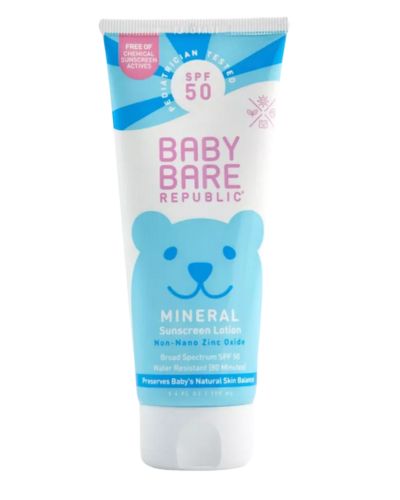 Bare Republic
Mineral Sunscreen Lotion SPF 50
Free of harmful chemicals, this sunscreen supports and prevents disruption to your baby's natural skin balance.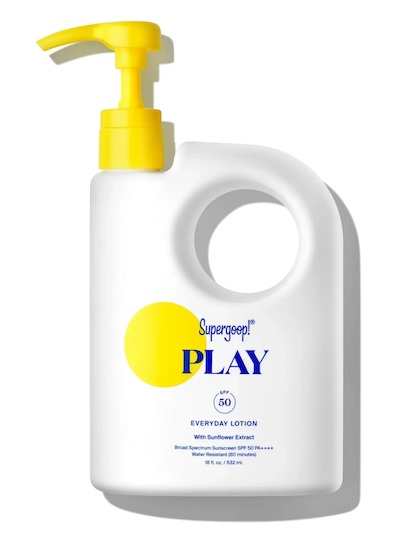 Supergoop!
PLAY Sunscreen SPF 50
Perfect to have on hand all summer long for the kiddos, PLAY Everyday Sunscreen Lotion is clean and cruelty-free. It is a chemical sunscreen, so best for kids (and grown-ups).
For babies and toddlers, shop Supergoop! Sunny Screen mineral sunscreen here.